We can also support the following modifications within our engine ECU remap software.
EGR Delete
DPF Delete
Speed limiter removal
Flaps removal
IMMO Delete
Individual DTC Delete
MAF Delete (MAF to MAF switch)
Lambda/O2 sensor delete
Start/Stop Disable
Launch Control Enable

ECU & TCU Tuning File Supply - The Tuning File Service
We offer ECU tuning files through our trade brand ByteFLASH, allowing customers to value add their business by offering remapping to their customers.
By Utilising the ByteFLASH brand, customers are able to market themselves as ByteFLASH Installers, where ByteFLASH is a software product, enabling them to establish their own brand and reputation in their area. The ByteFLASH brand does not offer retail-based workshop tuning directly to customers, and only directs customers to their nearest ByteFLASH installer.

JR Tuning is committed to providing some of the highest quality ECU tuning files available in the market today. We support a wide range of clients who wish offer Engine ECU or Gearbox TCU remapping services to their clients. Our dealers range from traditional car performance and modification centres, through to tyre shops, car sales dealerships and other tuning companies who choose to lean on our support and experience to grow their own business and offer the very best to their clients.

We're not simply 'another generic ecu tuning file supplier'. We offer full technical training to those new to remapping along with ongoing support. Additionally all ecu tuning files are written in-house. We won't have any 1st line support engineers, the person on the end of the phone dealing with your support request is the person writing the file.

Already using another ECU tuning file supplier?
If you're moving from another ECU tuning file supplier and already have equipment you're comfortable using, more often than not we can migrate this equipment from your existing tuning company to our master.

Already have master tuning equipment?
If you already have master equipment and simply require master tuning files, you can register for our trade tuning file service HERE.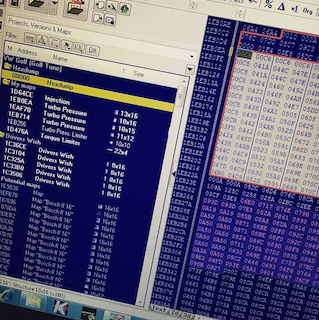 What can we offer?
>> Master unlocked ECU tuning files
>> Slave locked ECU tuning files
>> Gearbox TCU Tuning for a wide range of transmissions
>> Supply of equipment to read/write vehicle ECU's and TCU's
>> Full onsite technical training
>> Tricore/Bench tuning training
>> Comprehensive support via email and phone
>> Diagnostic equipment

File availability & turnaround


The ByteFLASH ECU tuning file service is available between 08:00hrs and 18:00hrs weekdays, 09:00hrs to 16:00hrs on Saturday's and 10:00hrs to 14:00hrs on Sunday's, however where customers pre-book jobs outside of these hours, we will do our best to ensure somebody is available to assist. During office hours we expect to return all remapped tuning files within 1 hour.