Mercedes C63 AMG W204 Remapping
Engine & Gearbox software development for the C63 AMG
The Mercedes Benz C63 AMG uses the same 6.2L AMG V8 as the SL63 AMG and E63 AMG however in the C class AMG performance is limited to 451BHP for the standard car and 481BHP for the P31 performance pack car. We decided it was time to get both the C63 AMG and C63 AMG with P31 Performance Pack onto a dyno for some remap development work.

Firstly we took the standard power reading from both C63 AMG's and as expected the C63 with the factory P31 performance pack produced 27BHP more than the standard car, pretty much on the mark, Mercedes claim an extra 30BHP extra from the P31 performance pack.
Dyno Results
The Dyno runs on both cars produced some interesting results, the C63 (white vehicle) and C63 with Performance Pack (black vehicle) produced the same power and torque at the wheels at lower rpm, however as revs built power from the P31 performance pack C63 AMG continued to climb whilst the standard C63 AMG started to run out of breath.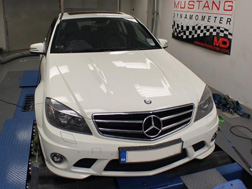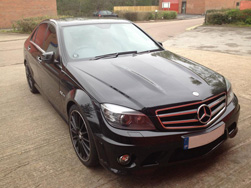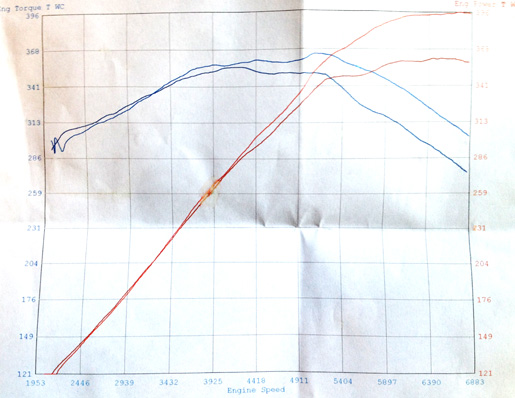 Remapping the C63 AMG
Next we took a read from both cars and found both the C63 AMG and C63 AMG with P31 Performance Pack had the same ECU map. This explains why both cars produce the same power at lower engine speeds, however it is clear the P31 C63 AMG has a better ability to breath at higher engine speeds. We then proceeded to remap both cars. The C63 AMG produced an extra 41BHP and 48Nm torque with much better throttle response whilst the better breathing in the P31 performance pack car allowed it to gain 49BHP and 54Nm torque, again with greatly improved throttle response. The dyno chart below shows the standard vs remapped power on the P31 C63 AMG at the wheels.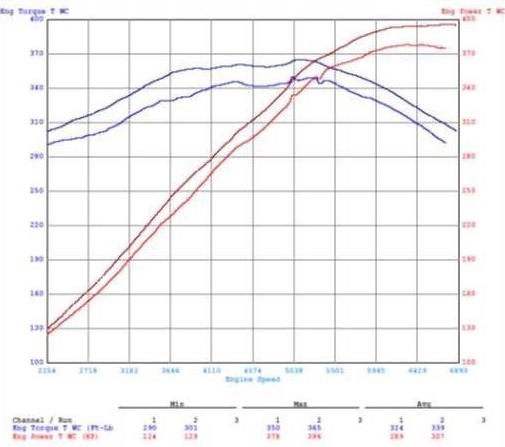 Want even more? Add a gearbox remap...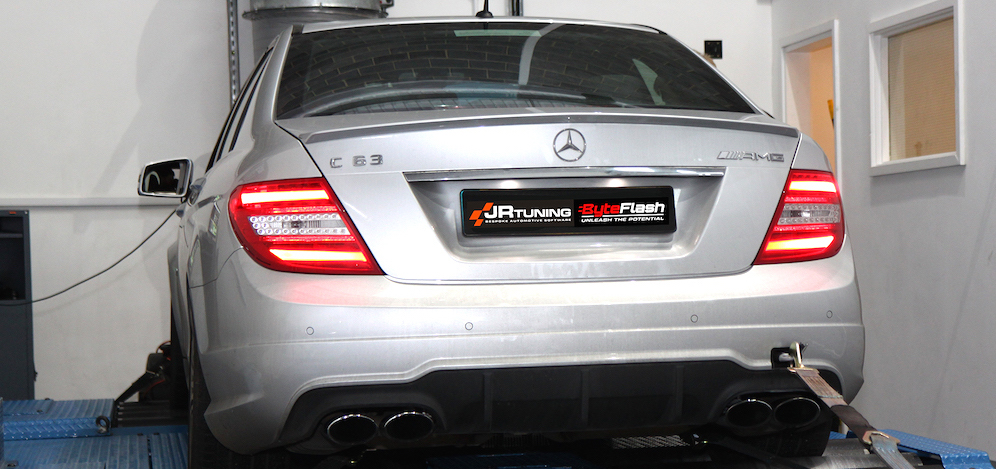 The remap figures above are from Engine ECU remapping on the C63 AMG. We also offer a C63 AMG gearbox TCU remap which provides the following additional benefits over and above the engine ECU remap:


Additional 30bhp gains (flywheel).
Lightening quick gear shifts.
Smoother gear shifting.
Faster reaction to paddle shift inputs.
Optimised shift pattern.
Quicker acceleration..

This graph shows a comparison between a C63 AMG running on the dyno with just a competitors Engine ECU remap compared to one running with both our Engine and Gearbox ECU remaps. Naturally the graph only shows power and torque gains from the gearbox torque limiter changes, not the additional benefits such as improvements to shift speed.




Our C63 AMG Gearbox Remap is the result of 3 years development work and provides a unique performance upgrade for both the the C63 AMG 7G-Tronic MCT gearbox.
To discuss your C63 tuning further please contact us


Some of the C63 AMG's we've tuned